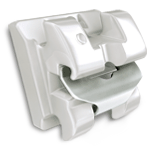 Your choice for a beautiful smile
We happily offer our patients In-Ovation System braces
In-Ovation is a new and technically advanced system that can give you the radiant smile you have always wanted without the need for ties or elastics.

Traditional Braces
Elastics and ties are used to hold or ligate the wires into proper position.

In-Ovation
With the In-Ovation R system, the wire is held in place by the bracket itself, a self-ligating bracket.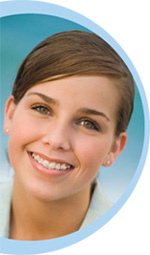 Attractive Advantages For You
In-Ovation comes in three styles that look great and are comfortable to wear. Ask us which In-Ovation bracket is best for you!
In-Ovation® R is smaller and has a lower profile than other self-ligating brackets. With no elastic or metal ties, you may experience less difficulty keeping your teeth clean.
MTM® No•Trace™ offers a superb alternative to tray aligners for patients who require 6mm of movement or less. Completely invisible, MTM self-ligating "quick clips" work within a few short months to give you the perfect smile you've always wanted.
In-Ovation® C
A smile that gets noticed for all the right reasons!
Your smile is more than an expression. It's a wearable work of art that portrays the person you are. That's why we offer In-Ovation C system braces.
In-Ovation C braces are crafted from a translucent ceramic that naturally blends with your teeth. This enables you to smile with confidence while you're getting treated. In-Ovation C is the comfortable, convenient, and discreet way to transform your smile from average to artistic.
With In-Ovation C, you have all the benefits of an advanced self-ligation system.
Natural-looking smile during treatment
Enhanced comfort
Fewer follow-ups
Shorter appointments
No elastics or metal ties
The smile you've always wanted
Patient Testimonial Video